TAG Heuer | Connected golf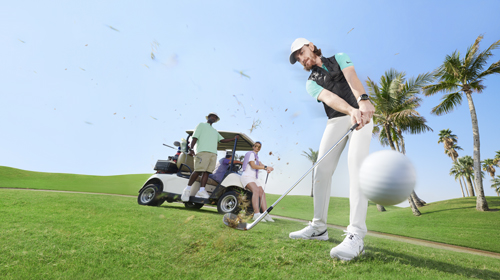 The watchmaker has unveiled a new version of its hugely popular golf watch, the TAG Heuer Connected Watch Calibre E4 – Golf Edition, with technical improvements including a new automated shot-tracker, redesigned golf software and a magnetic ball marker built into the strap.

The TAG Heuer Connected Watch Calibre E4 – Golf Edition also offers a redesigned interface to make it easier to control the watch's functions, including high-resolution 2D maps showing hazards and distances on more than 40,000 golf courses around the world. It allows wearers to improve their game, no matter what level of player they are.

The new TAG Heuer Connected Watch Calibre E4 – Golf Edition has a redesigned buckle with a built-in magnetic ball marker. These elements are a must-have for putting, so having one incorporated into the watch buckle means one less thing for golfers to carry.

The new watch automatically detects swings to allow users to track their performance in the app without having to activate the function by hand. The watch pinpoints when the wearer performs a swing on the tee area, using the Connected Watch's accelerometer and gyroscope, and begins tracking the shot. It concludes when the watch identifies the swing to hit a second stroke. It means golfers don't have to remember to track their drive, ensuring that the data is captured automatically. For the time being, this function is limited to tracking the first shot on each hole.

The 45mm model has a sporting design and a powerful ceramic bezel, which gives it the feel of a traditional high-end timepiece, highlighted with the iconic green of the Golf Edition. The iconic 18-hole bezel provides an immediate scorecard during a round with color-coded segments showing on each hole if you are above, on or below par. The watch's pushers have a mechanical feel, highlighting TAG Heuer's 160 years of heritage in making high-end mechanical watches – and the watch slopes inwards, so it feels lighter on the wrist than previous generations of the Connected Golf Edition.
Published on 2022-05-28