Cartier | Masse Mystérieuse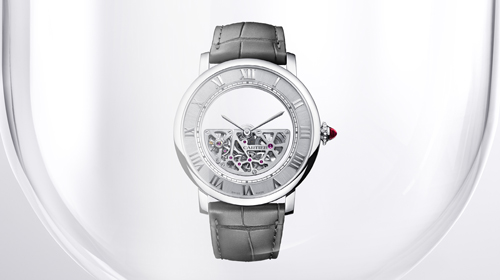 The watchmaker presents Masse Mystérieuse, a spectacular timepiece rotating to the rhythm of an original in-house movement. A mobile calibre condensed into a semi-circle, transformed into a skeletonised oscillating weight.

This timepiece brings together two of the Maison's watchmaking signatures: the mysterious movement and the skeleton. Since the mystery clocks first appeared in the 1910s, the movement has not only been miniaturised to fit watch cases but, for this new creation, it has also been reimagined to make the oscillating weight a real ornament.

The new Calibre 9801 MC ensures the effects of gravity do not impair precision timekeeping. A patent has now been filed for this movement stemming from nearly eight years of work at the Manufacture, where it was designed, developed and assembled. It took five different constructions before a prototype could be launched, with two further prototypes needed to develop the final version of the calibre. On the Masse Mystérieuse watch, the hands float in the space of the case, without being connected to any gears. Even more surprisingly, the whole movement also seems weightless. All components that receive energy from the movement, transmission and regulation are integrated in the rotor. The latter is itself skeletonised to make this moving spectacle visible. In the centre, an ultra-sophisticated differential system – borrowed from the automotive industry – has been integrated into the movement to prevent the time display from being caught in the weight. A technical feat that comes to life at the slightest touch of the wearer and seamlessly displays the time to the rhythm of the hands in the void. On this piece, the most technical and complex ever developed by the Manufacture's watchmakers, the mysterious rotor uses an innovative principle that ensures the balance wheel always remains in the same vertical position. For this to happen, the rotor rotates in both directions at an irregular speed.

Mystery clocks make up their own chapter in the Maison's history. The term "mystery" is used because their hands appear to float over the transparent body of the clock, with no connection to the movement. The first Cartier mystery clocks were introduced in 1912. They bear witness to Cartier's aesthetic vision and made the Maison famous in the early 20th century. They are the fruit of collaboration between Louis Cartier and an exceptional clockmaker, Maurice Couët. The latter was not even 25 years old when he was first noticed by Cartier, and was already highly experienced. From 1911, he became Cartier's exclusive supplier.
Published on 2022-06-11