Doxa | Anniversary of the Doxa model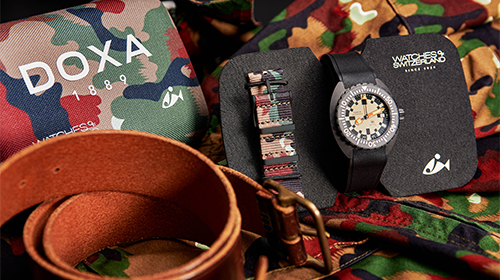 Six months after receiving official recognition (in November 2021) from the Swiss Army Combat Divers by Federal Councillor Viola Amherd, the watchmaker pays a fitting tribute by reissuing the iconic Doxa Army.

Rewind to the early 1960s. The space race is on and the whole world is looking to the stars. At the same time, another universe, much closer yet just as mysterious, also calls to us: the Sea. Urs Eschle, head of development for Doxa watches, clearly sees where all these fascinating documentaries, TV shows and magazine articles about underwater adventures are heading. Watches developed expressly for diving have been around for quite a while, but their cost is still prohibitive. Urs decides that something has to be done. The year is 1964.

The diving watch Urs Eschle envisions would not just be reliable, affordable and attractive to the growing number of scuba enthusiasts; it would also be up to the toughest standards as a tool watch for professional divers. He sets up a team that includes professional divers.

The SUB 300 and SUB 300T unveiled at Baselworld in 1967 are the first 100% professional diving watches designed to be affordable to a broader public. Because of their quality and the radical innovations they introduce, they quickly become the reference for uncompromising professionals as well. These two models, water-resistant to a pressure depth of 30 ATM (short for atmospheres, i.e., 300 metres or just over 980 feet), are also the first diving watches ever to feature a patented unidirectional rotating bezel for calculating and monitoring the dive time to ensure a safe ascent without decompression stops.

In 1966, the Swiss Army sets up a special force of military divers, trained to become an elite corps. The first members of this highly specialised Swiss diving unit begin training in 1968. It is also around this time that the SUB 300T passes the stringent evaluation procedure set up by the Swiss Army for the items that would be part of the standard equipment issued to its divers. 1969: Within the framework of its collaboration with the Swiss Army, DOXA develops a dedicated model, aptly designated "Army".

Today, more than 50 years after its debut, the brand and its Anglo-American partner Watches of Switzerland are reissuing the Doxa Army in a Limited Edition of only 100 pieces. Each watch comes in a packaging designed specifically for this edition and sporting the original camouflage pattern used by the Swiss Army at the time the watch was first issued. The box also includes two straps: one made from black FKM rubber and one Nato strap with a camouflage pattern.
Published on 2022-06-17