TAG Heuer | Super Mario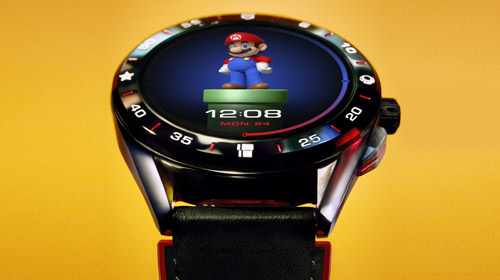 To celebrate the beginning of a long-term partnership between the two brands, TAG Heuer and Nintendo have created a limited-edition smartwatch featuring the Japanese brand's most famous character, Super Mario. The result: a watch that stands out and brings new creativity and daring style to the watchmaker's collections.
At the heart of this collaboration, the TAG Heuer Connected watch is a unique combination of the refinement and elegance of a chronograph-inspired timepiece crafted with a state-of-the-art, custom-designed digital experience geared towards performance. It offers customers a striking and versatile wristwatch to enhance their individual lifestyle, from daily connected services to immersive sports experiences. This brand-new digital creation, combining luxury and sport with fun features along the way, encourages the wearer to get out and about and step up their physical activity with Mario, to be rewarded by the pleasure and satisfaction of marking their progress.
Mario himself is always on the move, whether he is running and jumping, or playing sports like golf and tennis. His upbeat and active personality will encourage wearers of this smartwatch to enjoy moving too. With its watchface, which becomes livelier and more animated the more the wearer is active, this edition changes as its user makes progress, for a fun and motivating way of keeping active throughout the day.
The TAG Heuer Connected x Super Mario Limited Edition is presented in a packaging designed exclusively for this collaboration. It also comes with a travel case in Super Mario red. This edition limited to 2,000 watches is available only in selected TAG Heuer boutiques and at www.tagheuer.com in some regions.
Published on 2021-08-27