Rolex | Awards for Enterprise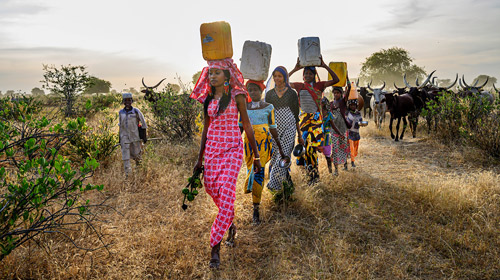 Rolex announced the five pioneers who have earned the title of Laureate of the Rolex Awards for Enterprise for their bold, visionary projects that have the potential to help reinvent the future.
Among the five men and women who hail from around the globe – from Brazil, Chad, Nepal, the United Kingdom and the United States – are a marine scientist, conservationist, polar explorer, social entrepreneur and a geographer and climate advocate.
The Rolex Awards were set up 45 years ago to mark the 50th anniversary of the world's first waterproof wristwatch, the Oyster. Through the programme, the company supports exceptional individuals with innovative projects that expand our knowledge of the world, protect the environment – helping to preserve habitats and species – and improve human well-being.
The Rolex Awards are one of the three pillars of the Rolex Perpetual Planet initiative dedicated to supporting those who contribute to a better world. For now, the initiative also embraces Sylvia Earle's Mission Blue programme to preserve the oceans and an enhanced association with National Geographic, a Rolex partner since 1954, to understand climate change through science.
Felix Brooks-church, United States
American social entrepreneur Felix Brooks-church is tackling one of the world's greatest afflictions, malnutrition, which affects 2 billion people globally, and is linked to half the preventable deaths of 15,000 children every day.
Over a decade ago, Brooks-church spent four years in Cambodia, working on education projects to improve children's lives. Troubled by the numbers of children he encountered who were suffering from stunting and learning difficulties, he discovered that to develop cognitively you have to ensure proper nutrition for women of reproductive age and children within their first 1,000 days. His determination to tackle malnutrition eventually led him to co-found and lead Sanku, a non-profit social enterprise, in Tanzania.
Brooks-church formulated an ingenious solution to the colossal problem of malnutrition – a device to fortify flour with nutrients and, importantly, a business model that ensures there is no extra cost to consumers and millers. "What we are doing is adding life-saving nutrients to the staple foods that millions of people depend on every day", he says. To do this, he developed and patented the "dosifier" a device that looks like an electronic scale and can be installed in small-scale mills, many in isolated areas, which produce up to 95 per cent of the maize flour that is a staple in East Africa. This represents the first time that these local millers are being mobilized on a large scale to fight malnutrition. Small mills are often left out of national nutritional fortification programmes because most small-scale millers are unable or unwilling to pay for nutrients. In addition, most governments do not have adequate manpower to monitor small mills.
The dosifier adds vitamin B12, zinc, folic acid and iron to flour. It releases precise quantities of nutrients as the grain flows through its weight-sensitive hopper. Dosifiers are light but strong, and transmit data remotely, enabling Brooks-church's team to monitor thousands of small-scale mills scattered across Tanzania.
This ingenious business model makes the addition of nutrients selfsustaining, costing the millers and consumers nothing. It is based on the purchase of empty flour bags, which are the primary cost for millers and are relatively expensive as millers buy them in small quantities. By buying bags in bulk, Sanku is able to sell them to millers at market price and use the margin to cover the cost of the added nutrients. The end result is that Tanzanians can buy fortified flour at the same price as the unfortified product.
It only costs around US$1 per year to feed one person, Brooks-church says. "We care about reaching a lot of people, but we care even more about being costeffective and sustaining this", he adds.
In the coming months, Sanku plans to install an additional 200 dosifiers across Tanzania, before introducing its sustainable business model to at least one additional country next year. "From Tanzania, we will expand through East Africa", he says.
The bag sales cover the costs of the added nutrients. The organisation will use the funding from the Rolex Award to purchase 40 dosifiers to transform small-scale mills, which will feed up to 200,000 people with critical nutritious flour.
Hindou Oumarou Ibrahim, Chad
Lake Chad, in the Sahel region of west-central Africa, provides water for over 30 million people living in the four surrounding countries, Chad, Cameroon, Niger and Nigeria. But, as climate activist and advocate for the rights of indigenous peoples, Hindou Oumarou Ibrahim, explains, Lake Chad is shrinking rapidly. "When my mother was born, Lake Chad used to be about 25,000km2 of water", she said in 2019. "When I was born over 30 years ago, it was 10,000km2. And now it's about 1,200km2."
Ibrahim is a member of the Mbororo pastoralist people in Chad. "We are at the front line of climate change", she says. "When the seasons change, it changes our daily life." Climate change, along with population growth, has exacerbated tensions between the nomadic Mbororo herders and settled farmers. The situation has deteriorated further because of the Covid pandemic and widespread floods that began last October.
Ibrahim is convinced that the best way to manage the conflict is to bring people together. She invites men and women, nomadic pastoralists and settled people to conduct participatory 2D mapping of the area. Natural features, such as ridges and plateaus, are mapped out on a board, which leads to the creation of an intricate 2D/3D landscape model from which information, such as an access point to water or the presence of fruit trees, can be added. Ultimately, the maps will allow the conservation of resources with everyone agreeing, for example, on how to share corridors for animals and access to fresh water.
Ibrahim, who has had to forge her own difficult path as a leader in a society that is deeply patriarchal, is convinced that women are key to mapping resources because they remain close to nature and to home, using the terrain and powers of observation to solve problems. She compares women's wisdom to apps on a smart phone. "My best app is my grandmother", she says. By looking at the wind, watching insects, noticing the size of fruits or simply observing their cattle's behaviour, women can make accurate forecasts that hold vital knowledge for farmers and pastoralists.
These observations are combined with science in the mapping process, which has already been proven to be a vital tool for sharing resources. Ibrahim conducted a small-scale mapping project in Baïbokoum, southwest of Chad, and demonstrated that it is a sustainable, scalable and credible tool to decrease tensions between communities and help local authorities to implement a smart way of governance. She brought together 500 indigenous herders to map natural resources in the region. While men documented mountainous areas, rivers and places considered sacred, women mapped the springs. The project caught the attention of the national government, which began using the survey to inform public policy. The Rolex Award will permit Ibrahim to scale up her mapping work in Chad and neighbouring countries.
Rinzin Phunjok Lama, Nepal
In September 2006, conservation efforts in the small, landlocked nation of Nepal were dealt a heavy blow when a helicopter crash in the east of the country killed all 24 people on board, 23 of them linked to conservation, including the state Minister of Forests and Soil Conservation, pioneering conservationists who had established special parks and bureaucrats from the Ministry of Forests and Environment.
Scientist and environmentalist Rinzin Phunkjok Lama is a leading light in the new, much-needed, generation of conservationists determined to protect the nation's rich biodiversity. Lama was born and raised in the Humla district of northwest Nepal, one of his country's poorest, most isolated and highest regions (3,000−5,000 metres above sea level). He was inspired and mentored by 1981 Rolex Laureate, wildlife biologist Rodney Jackson, who spent four decades of his life protecting the threatened snow leopard and initiated the first-ever radio collar study on snow leopards in western Nepal. Lama has made it his life mission to protect not only the snow leopard, but also the threatened Himalayan wolf, Himalayan black bear, wild yak, Tibetan argali, musk deer and other species of Nepal's high-altitude wildlife.
"The Trans-Himalayan ecosystem (which includes most of Nepal's highland) is very fragile and increasing human activities are threatening it constantly. Thus, there is an urgent need for a conservation project which addresses an integrated approach to conservation and livelihood", Lama says.
Lama's long-term solution to overcome the threats to this biodiversity is to engage local people from Humla, particularly young environment graduates, fulfilling his vision of "leading by locals".
The people of Humla district depend on the region's biodiversity for their livelihoods. However, as only 1 per cent of the land is suitable for farming, their agriculture is limited to subsistence. Humla also suffers from high rates of food insecurity and illiteracy, lack of development and limited economic opportunities, so Lama wants to empower communities to become the stewards of the land, while addressing the goals of livelihood and sustainability.
Lama will enhance and enlarge current conservation activities and train and promote local leadership in conservation. Citizens will be trained in law enforcement to reduce illegal hunting, logging and forest fires.
His Rolex Award has the potential to make Lama a lifelong national voice for conservation and a model for young people to champion the environment, filling the void left by the helicopter crash of 2006.
Gina Moseley, Greenland
With one eye on Earth's past and the other eye on humanity's future, in a world first, British polar explorer and climate change scientist Gina Moseley is preparing to lead an expedition to the planet's northernmost caves in Greenland.
While the expedition will explore several caves, there is one giant cave in particular that Moseley is captivated by. She first found out about it through a chance encounter at a Bristol caving club in 2008. A fellow caver, Charlie Self, described the cave and gave Moseley a folder containing an intriguing article that related how, during the Cold War, US reconnaissance aircraft looking for emergency ice-free landing sites spotted a giant cave set high in a cliff above a lake in Wulff Land on the tip of northern Greenland. And there the story was frozen for 60 years.
Moseley's six-member team will have a long journey to reach the region. Once there, they will travel long distances on foot in the 24-hour sunlight. They hope to explore the giant cave which, despite much interest and speculation, has never been visited, because of what she describes as its "remote location, difficult logistics and the very high cost of an expedition to north Greenland". The "substantial funding provided by Rolex for exploration is a unique opportunity to achieve this", she says. Most organizations, she points out, require proof of concept before giving out funding. Rolex, however, recognizes the value of exploration teamed with science and is committed to supporting such ventures. Without Rolex's support, she adds, scientific questions in her research about climate change "are unlikely to be answered for many decades".
Moseley says that one of the best ways to understand climate change is to be found in studying the chemical history of caves, to look for the presence of calcite mineral deposits, which are also known as speleothems and are formed from dripping water. For water, with its telltale deposits, to enter the caves, the climate would have to have been warmer and wetter than it is today. If calcite is found on this expedition, Moseley's research could potentially extend the existing climate record for the far north fourfold − up to half a million years ago.
Greenland is a region vital to the planet's future. Its ice sheet is melting at record rates. On a single day in 2019, it added up to 12 billion tonnes of water to the oceans. And world sea levels are rising by more than a millimetre a month, which scientists did not expect to see for another 50 years.
Luiz Rocha, Brazil
Luiz Rocha grew up near the sea in Brazil and started diving as a teenager, deeply attracted to discovering the ocean's mysteries. "I decided to be a biologist at age five or six and… I've just always had this attraction to going out in the ocean and admiring marine life." Twenty years ago he started diving at significant depths, mastering the advanced technical skills required for deep diving. He has now spent more than 6,000 hours underwater and has undertaken more than 70 scientific expeditions, half of which he has led. Nothing captivates him more than exploring the oceans.
Rocha currently has his sights set on the Indian Ocean with his project to explore, study, protect and make known deep reefs and their multitude of inhabitants, including countless species of fish, many of them never seen before and spectacular in appearance.
While people are familiar with shallower reefs, such as Australia's Great Barrier Reef, the world's deep coral reefs, 30 to 150 metres below the ocean's surface and known as mesophotic coral ecosystems, are largely unexplored.
Coral reefs constitute some of the planet's most diverse ecosystems. Nearly 25 per
cent of all marine life are dependent on reefs at some stage of the life cycle. In addition to exploring the extensive mesophotic reefs of the Indian Ocean, Rocha will research their suitability to shelter at-risk species from shallower reefs that are threatened by global warming.
The Indian Ocean project holds serious challenges for Rocha and his multinational team. Based in the Maldives, Rocha's team is venturing into the unknown. The presence of atolls means that mesophotic reefs are there too – as Rocha says: "Even though no one has seen them before, we know they are there." Deep reef descents are complicated, requiring mixed-gas re-breather equipment that recycles divers' breath after stripping out the carbon dioxide, allowing them to descend deeper. Rocha is one of the few marine scientists capable of undertaking this demanding technical diving. Safety is a priority, so only one dive is permitted each day.
Rocha's project, which will include three expeditions over two years in partnership with the Maldives Ministry of Fisheries, will greatly augment knowledge of the species living in the reefs and also provide valuable data about conditions and temperature changes over extended period.
"Rolex has long recognised its responsibility to play a part in creating a sustainable planet, a Perpetual", said Arnaud Boetsch, Rolex Director of Communication & Image. "Rather than venturing into the unknown and discovering uncharted lands, the new breed of explorers is committed to protecting the planet. The five Laureates are prime examples of these guardians of the future." They will receive funding for their projects and other benefits such as worldwide publicity, which often engenders further support.
Published on 2021-09-03