Zenith | Dreamhers - Chapter III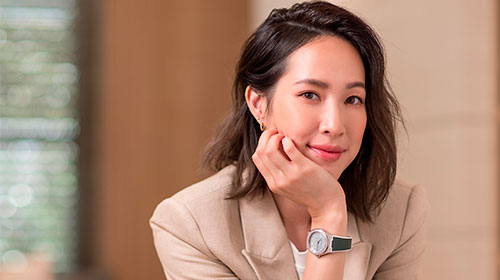 Melody Hsu
Unveiled in 2020, the Defy Midnight line of watches – the first collection exclusively for women – is an ode to modern, assertive and confident femininity. To celebrate the determined women who pursue their dreams and chart their own course to success, Zenith has brought together a group of visionary, independent, exemplary women from all walks of life who fully embrace the brand's philosophy: Time to Reach Your Star. The brand from Le Locle has welcomed four new Dreamhers with inspirational stories.

Algerian-born Ghizlan Guenez has always sought to revolutionise the world of prêt-à-porter fashion to match her own style and values. In 2017, she established The Modist, the first Dubai-based global e-commerce platform that offers luxury fashion for those who prefer to dress modestly. After several years of successfully building up her emerging platform, things took an unexpected turn in 2020 when the pandemic made it impossible for The Modist to continue operating. But instead of giving up on her dream, Ghizlan proved that failure isn't a setback, but a lesson. She is currently working on launching a tech business that will re-engage The Modist community.

Zenith first encountered Italian-Canarian race driver Christine Giampaoli Zonca at the first Extreme E race, of which Zenith is a founding partner and the official timekeeper. She joined Extreme E's Xite Energy Racing team as driver. Christine has reached her star against all odds, even when no one believed in her. She's paving the way for other young women who want to enter the world of racing by showing them that they can have their place in a traditionally male-dominated sport.

Australian entrepreneur and coach Emilie Brabon-Hames has reached her star by inspiring and pushing women to reach theirs and become the best versions of themselves to unleash their true potential. She is also a nutritional coach and the co-founder of Original Bootcamp, the world's longest running and most respected military-inspired bootcamp fitness program.

Entrepreneur and health & wellness coach Melody Hsu is a shining example of the modern-day working mother. She notably founded Viasweat, an activewear brand that produces ethically and sustainably made pieces for women of all shapes, sizes and lifestyles. Never one to shy away from risk and always looking for new opportunities, Melody Hsu is living proof that the only barrier to reaching one's star is attitude.
Published on 2021-09-09