Corum | The iconic Bubble watch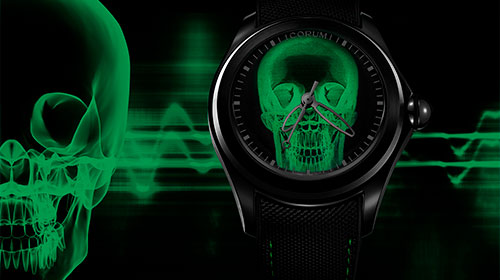 It was during the famed Basel watch exhibition in the year 2000 that Corum first unveiled its now-legendary Bubble watch. With an oversised case and huge domed crystal, the Bubble was the brainchild of the equally-legendary Severin Wunderman, then owner of the brand. That first Bubble wowed the world and the timepiece quickly developed a cult-like following. Now, 21 years after its unveiling, Corum is launching a new Bubble in the shape of the new X Ray watch, inspired by early designs.

Among the first Bubble watches to make their debut in 2000, was a watch with a stylised skull on the dial. Wunderman, who had just bought the brand, was also obsessed with life, death and the concept of Día de Muertos, a celebration where friends and family gather to honour the dead in a festive manner. His goal with the Bubble was to disrupt the watch world and make a new statement.

Now, to honour both the coming of age of this iconic timepiece, and the dynamic man behind it, Corum is releasing a limited-edition watch with the same signature elements that made the Bubble famous, but with a contemporary and creative touch.

The Bubble X Ray pays tribute to the line's roots with a highly stylised yet realistic looking skull taking centre stage on the dial. While the huge domed sapphire crystal slightly distorts the image, it is fully visible in the dark because it is totally luminescent: disruptive in day and at night. In fact, when the lights go out, the skull glows green for an eerie yet provocative appeal. Bringing the luminescence full circle, Corum adds fluorescent green stitching to the synthetic alligator-like strap that is lined with rubber.
Published on 2021-09-11