Hamilton |World-record-breaking flight for Dario Costa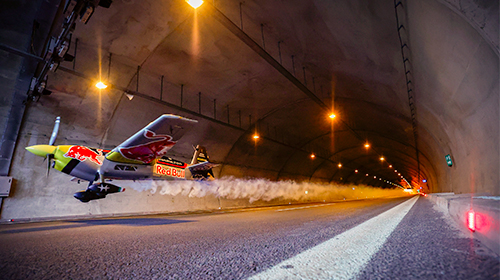 On September 4th, Italian aerobatic and racing pilot Dario Costa once again proved his precision and skill with a world-record-breaking flight through two auto tunnels near Istanbul. Completely enclosed and in near-darkness, the Hamilton ambassador and Red Bull athlete executed a tricky takeoff in the first tunnel, continued through an open-air gap and then into the second tunnel – all at 245 km/h, flying less than one meter from the ground.

Even with more than five thousand hours of logged flight time – over half in high-performance aerobatics – diligent preparation, immense skill and the highest level of flying were required of Dario as he wrote a new chapter in aviation history.

After a year of planning and practice, Dario took off in the cockpit of a specially modified Zivko Edge 540 race plane just after dawn. Limited overhead clearance required him to maintain a steady flight path between 30-70 cm from the asphalt, and 3.5 metres from each wingtip to the tunnel's concrete sides.

Less than 44 seconds later, Dario had flown 1,730 m, reaching an average speed of 245 km/h and set a new World Record for the Longest Tunnel Flight.

Originally launched in 2014, the Khaki Aviation Takeoff Automatic Chronograph was alongside the aviator. It features a unique function created to meet the needs of pilots: a removable case and mount. Wearers can take off the case without removing the full watch and attach it to its fixed mount on a cockpit dash.

In celebration of Dario's record-breaking flight, Hamilton has unveiled a new Khaki Aviation Takeoff Automatic Chronograph – a special 100-piece limited edition representing a reference to the maximum possible flying height of 100cm inside both tunnels.
Published on 2021-09-29