Reuge | Enchanting Birds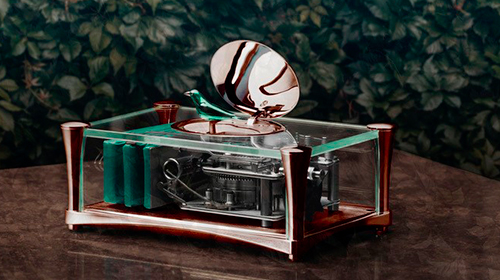 With its latest creation presented at Geneva Watch Days 2021, Reuge pays tribute to the green canary, an endangered bird that owes its name to the colour of its plumage.

By creating a singing bird automaton rather than a captured bird in a cage, Reuge wishes to pay tribute to this natural and magical gift of nature. Upon activation of a lever, the colorful animal pops out of the automaton where it was hidden from view under an oval cover. It flaps its wings and moves every joint of its small body in unison with an enchanting tune imitating the song of a Green Canary to a fault. The spectacle is so authentic that it seems like a real bird.

The bird's tune stems from an extendible pair of bellows in leather that is stored, much like an accordion pleat, by the mechanical movement's side. The most important prerequisite is that the result be 100% airtight so as to avoid the bird's song turning into a whisper. On the other hand, the leather must be of unrivalled suppleness to allow the bellows to fold smoothly and without snagging. The craftsman's challenge is better understood when one considers the combination of these two constraints: complete airtightness applied to 0.25mm thin leather which guarantees its flexibility. Mastering this perilous balance requires a dexterity anchored in a tradition that very few artisans possess. The result is an organic sound of such purity, that with your eyes closed it is hard to tell the difference with an actual birdsong in nature. Reuge reproduces the melody and intonation of the green canary with stunning virtuosity.

The motion is determined by an automaton enclosed in a transparent casing composed of rose gold elements. Reuge respects the bird's exact mimics, right down from pairing the opening of its beak and tilt of its queue and to the flapping of its wings. The bird on this Tabatière (snuffbox) model consists of more than 250 components working in perfect synergy.

The birds feature a titanium body and wings, complemented by a gold beak. For the new version, the case and bird are graced with rose gold plating further highlighting the hummingbird's shades of green.
Published on 2021-10-02