Swatch | Supriya Lele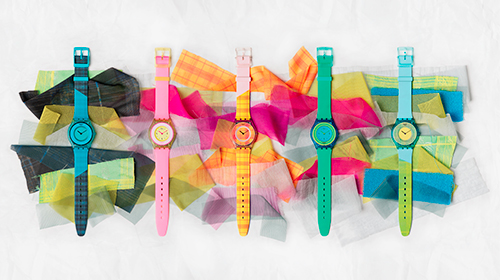 As part of its many collaborations with artists and designers, Swatch has returned to haute couture with one of London's most exciting designers: Supriya Lele. This rising star of fashion, with a strong penchant for color, has added her aesthetic touch to the Skin Classic collection of the Biel/Bienne-based company.

Sensual yet playful are the moods Supriya Lele's eponymous label exudes. The designer scooped the LVMH Prize Fund in 2019, and her brand reflects her Indian and British heritage, with a twist on minimalism. She's been making waves throughout the industry thanks to her ability to create beautiful, directional pieces that blur the lines between the two cultures. Think sheer fabrics, sari-inspired draping and bright interpretations of the traditional Madras check. The collaboration with Swatch sees the designer enter a new territory and fan base.

The X Supriya Lele Skin Classic watches continue the brand's responsible action with the case made from bio-sourced plastic. Lele's ingenious layering on the runway is so light that her designs almost become a second skin for the women who wear them – just like the Swatch Skin Classic watch. The collaboration captures the essence of Lele's style hallmarks thanks to different printing methods on the straps, and for the first time for Skin, the glass, giving it the depth and transparency effect the designer intended. Three watches feature the signature Madras check pattern, while two others have numbers on the dial written in Hindi as a nod to the designer's heritage.
Published on 2021-10-06