Breitling | Ironman endurance races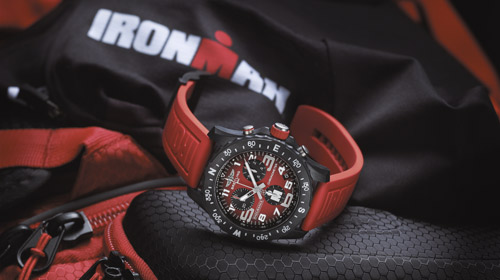 The two brands have entered into a long-term partnership and have teamed up to create the special Endurance Pro Ironman series, a sporty timepiece combining high precision, innovative technology and a sparkling, colourful design. The launch of this timepiece took place in mid-June in the watchmaker's Beverly Hills boutique.
Its 44mm case is made of Breitlight, which is 3.3 times lighter than titanium and 5.8 times lighter than steel, yet considerably stronger. This exclusive high-tech material is exceptionally resistant to scratches, traction and corrosion. It is also distinguished by its anti-magnetic and anti-allergic properties, as well as its thermal stability, which makes it feel warmer than metal.
Two versions of this timepiece are available: the Endurance Pro Ironman and the Endurance Pro Iroman Finisher. The first features a red dial with a black inner bezel, while the black iteration with gold accents is reserved exclusively for athletes who have completed an Ironman race. Both are powered by Breitling Caliber 82, a COSC-certified, temperature-compensated SuperQuartz movement with a battery life of approximately three to four years.
Founded in 1978, the Ironman brand has grown from a single race to a global experience with hundreds of events in over 55 countries. As the world's largest administrator of mass participation sports, the group enables more than one million people to enjoy endurance sports each year through a variety of offerings.
Published on 2021-08-06