Tudor | Alaïa, a visionary concept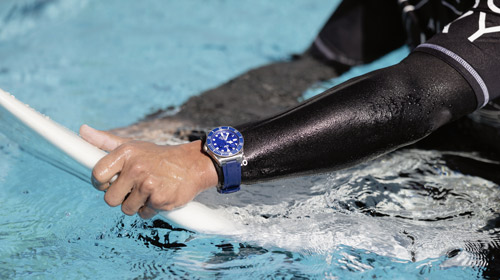 The watchmaker has announced its new partnership with Alaïa, a visionary concept built around the practice of action sports. This collaboration encompasses the Alaïa Bay, Alaïa Lodge, Alaïa Chalet and Alaïa Wake Surf sites.
First imagined in 2015 by Adam Bonvin, Alaïa was born following a surfing trip to Hossegor in France. His desire was to recreate the typical atmosphere of surf spots and action sports in Switzerland, in the heart of the Valais. A few years and a few investments later, this brand-new concept, almost unique in Europe and in the world, has finally seen the light of day with a rich and varied range of activities.
The Alaïa project is spread across four locations. The Alaïa Bay site in Sion, where the 8,300 m2 pool is located, recreates 100m long waves ranging from 50cm high for beginners to 2m high for experts. The bay is divided into two pools, each providing space for 20 surfers. The site also includes the Factory, a magical place where surf lovers can discover the secrets behind the making of a board. All the stages are brought together in one place: from the choice of the shape to that of colours, as well as sanding, all followed and guided by an expert artisan in the field.
Not far from there, in Crans-Montana, the Alaïa Lodge hotel offers 144 beds divided between 12 double rooms, three family suites and 19 dormitories that can sleep from four to ten guests. This complex features a perfect blend of alpine atmosphere, urban style and Alaïa spirit. Also in the Valais mountain resort, Chalet Alaïa devotes 5,000 m2 to the practice of action sports, such as skateboarding, scootering, trampolining, gymnastics, cheerleading, parkour, as well as skiing and snowboarding.
Represnting the fourth entity of the Alaïa project, Alaïa Wake Surf is located in the port of Le Bouveret. This nautical base offers the possibility to head out for a wake surfing session on Lake Geneva. Its strategic location offers a chance to enjoy sunsets and prolong summer days on La Barge du Léman, the former arteplage of Expo.02, for concerts or themed evenings.
Published on 2021-08-07