Longines | SolarStratos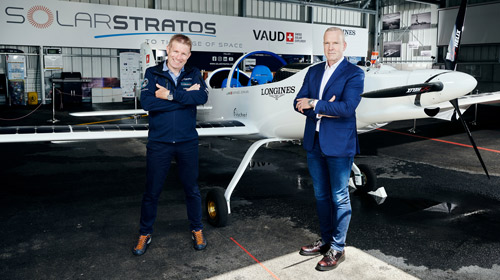 Longines and SolarStratos have unveiled their collaboration, making the watchmaker the Official Partner and Timekeeper of this unique adventure.
Renowned for the reliability of its precision instruments, the winged hourglass brand has accompanied explorers on their journeys to the last unknown lands, defied extreme weather, navigated wild oceans and played a part in opening up new air routes and establishing aviation records. Legendary aviators and explorers such as Amelia Earhart, Paul-Emile Victor, Elinor Smith and Howard Hughes have all placed their trust in Longines during their travels.
Longines stays true to its pioneering spirit by joining forces with Raphaël Domjan, founder of the SolarStratos Mission and holder of several world records thanks to the power of the sun.
SolarStratos is a venture of the SolarXplorers SA group. This mission, started by Swiss eco­ explorer Raphaël Domjan in 2014, aims to complete the first ever stratospheric solar flight. Above and beyond technological innovations, SolarStratos aims to promote renewable energies by illustrating the fact that concepts and projects which seemed impossible a short time ago are now feasible thanks to the technologies available today.
Published on 2021-08-07