L'Epée 1839 | Space Clock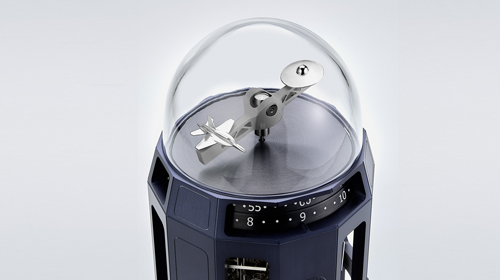 Designed by Epée 1839, Space Clock is as fascinating as it is intriguing. Inspired by the shape of NASA's lunar landers, this piece reveals an aluminium body housing an eight-day movement. The movement also drives a mechanical animation under the dome of the craft. Capturing the spirit of interplanetary adventure as a machine designed to fly among the stars, Space Clock also seeks to remind us just how human we are.

The playful seesaw animation on the top of the fuselage depicts a scene of child-like innocence: two astronauts gleefully bouncing and spinning around, working together and having a blast. A different configuration finds an interspecies pair as an astronaut and alien face each other, while yet another configuration depicts a flying saucer and fighter jet flying around under the dome.

Independent of the time indication, the animation conveys ideas and ideals. Showcasing the alien and astronaut transports us back to our childhood adventures, to those dreams of exciting exploration through space searching for exotic lifeforms.

The clock rests on three outrigger legs perfect for setting down in soft or rocky terrain, while the body has plenty of windows for observation as you explore space. Time setting and winding are accomplished via two portholes.

The L'Epée 1839 Space Clock is issued as a 100-piece limited series in each of three configurations: Human to Human, Human to Alien, and Jet to Spaceship.
Published on 2022-08-31