L'Epée 1839 | Time Fast II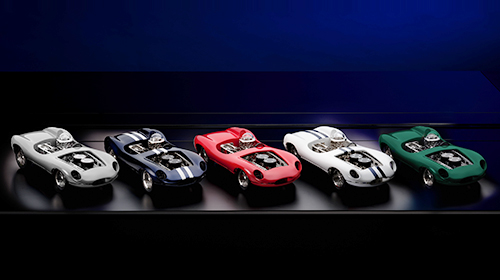 The car races of the 1960s made legendary circuits like Le Mans, Sebring and Daytona famous. This cemented the reputation of brands such as Porsche, Audi, Corvette, Ferrari, Jaguar, Bentley, Aston Martin, Lotus, Maserati, Lamborghini, Alfa Romeo, Lancia, Mercedes-Benz and BMW.

To mark this period, L'Epée 1839 presents Time Fast II: a thoroughbred V8 racing clock faithfully reproducing much of the technology and design that made those of the 1960s so attractive.

Time Fast II is mounted on an aluminium H-chassis, similar to vintage race cars. A three-spoke steering wheel, which is used for time setting, is designed like their full-size counterpart of that era. The stainless steel spoked wheels are meticulously crafted like the originals. The tyres are fitted with a special foam – let's remember that these 1960s cars were fitted with tubes, – so as to reproduce the same tyre deformation at the point of contact with the ground as on their full-size racing versions.

The time displays (hours and minutes) of the eight-day Manufacture movement are located on the two air filters feeding the two rows of carburettors of the V8 engine. Beneath the driver's helmet is the perpetually animated 2.5 Hz escapement system, symbolising the driver's brain, always on the lookout for performance. Turning the ignition key on the dashboard starts the pistons of the V8 engine, activating a realistic top-down animation.

In addition, Time Fast II naturally has a functional manual gear lever enabling one to select several modes: winding the movement, piston-winding animation and neutral. Winding is done by turning the rear wheels. Pushing Time Fast II backwards along a table to wind both movements brings back memories of childhood and beloved retrofriction cars.

Time Fast II is presented in a limited edition of 99 timepieces per colour: Ferrari Red, British Racing Green, Mercedes Silver, AC Cobra Blue with white stripes and White with blue stripes.
Published on 2022-09-08