Hublot | Big-Bang Gourmet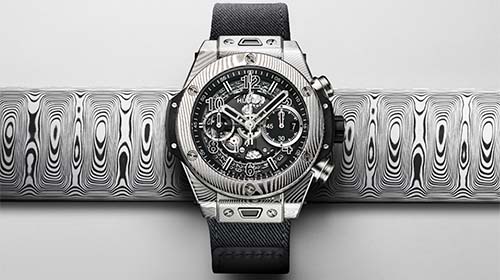 Hublot's Michelin-starred and gastronomic adventure began in 2017 with Andreas Caminada. Seven great Michelin-starred chefs have since joined the Hublot family.

For the second time, Hublot brought them together for a private dinner for which two of them were given carte blanche to create a dinner that is "first, unique, different". Four Michelin-starred hands joined together for the first time to create a menu that fuses the excellence, the style and the signature of Anne-Sophie Pic and Yannick Alléno. The two chefs combined Anne-Sophie Pic's instinctive and intuitive cuisine with Yannick Alléno's experimental and modernist technique. One hundred guests had the chance to experience a moment suspended in time alongside the chefs and their brigade. At the table for once, Eneko Atxa and Paul Pairet took part in the extraordinary experience on the other side of the looking glass.

Knives are constant allies for chefs, and among the various materials that shape these instruments, Damascus steel is the most iconic. Hublot has decided to forge its new Big Bang Unico Gourmet in a 200-piece limited edition from this material featuring a moiré imprint, The gourmet spirit extends to the strap, made from kitchen apron fabric with an easy-to-open Velcro strap that is useful and practical beyond the kitchen itself.

This is the legendary steel born around 300 BC in the region of Damascus and from which the most resistant and sharpest swords were made. Today, Damascus steel refers to a technique of hammering and bending steel that makes it very strong, which is why it is widely used and appreciated in the kitchen. It is now featured in the Big Bang Gourmet.

Also known as Damasteel, it is made by the Swedish company Damasteel, which has mastered the fashioning of this material since 1876. This unique steel has greater resistance and a unique weave of patterned steel on its surface. Damasteel is not a traditional metal, but rather a metal composite created from two types of steel. The first, 304L, is dark and made primarily of carbon; the other, 316L, is lighter. The two are forged, folded and folded again like a flaky puff pastry, then pressed. The result is a matrix rendering that sees the two materials welded into each other, producing a patterned weave that is unique every time.

To adapt perfectly to the watch's dimensions, Hublot chose a unique design, a pattern that fuses age-old know-how with the innovation developed by Damasteel. Surface corrosion of the composite allows the stratification of the two steels to appear, revealing the pattern through a contrast between the materials. In addition to its highly recognisable aesthetics, Damascus steel is also renowned for being more durable than traditional steel.
Published on 2022-11-05