Jacob & Co | Opera Godfather 50th Anniversary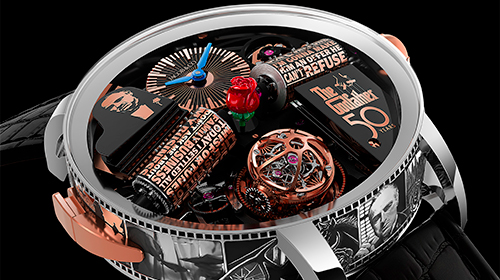 In Sicily, in the footsteps of The Godfather's shooting locations, Jacob & Co celebrates the 50th Anniversary of the iconic movie, presenting its emblematic triple-axis, flying tourbillon and music box watch. Benjamin Arabov, CEO of Jacob & Co, with the presence of Jacob Arabo, founder of Jacob & Co, and Gianni Russo, american actor, best known for his role as Carlo Rizzi in the 1972 film The Godfather, hosted numerous guests at a party organised in the property of Michael Corleone in Sicily, a "castello" that has remained intact since the filming of the movie in 1971.

The Opera Godfather 50th Anniversary is a 50-piece limited series, a striking cinematic, graphic and musical recollection of Francis Ford Coppola's cult classic that surpasses every previous iteration. Its symbolic value is enhanced by the location of its launch, a large-scale event taking place at the same locations as the film shoot.

The Opera Godfather 50th Anniversary incorporates 13 of these scenes, in the same narrative order as in the movie. This graphic synopsis is laser-etched onto the white gold case with an unprecedented level of vividness and quality. The piece also features the movie's 13 most famous quotes, some of which are firmly anchored in popular culture.

The set of symbols intertwined with the movement reaches a new level of storytelling. In the middle of Calibre JCFM04, The Godfather's emblematic red rose, rendered with incredible realism and quality, rests between the two musical barrels. They power the two-part music box mechanism that plays The Godfather's main theme.

The Opera Godfather is an extremely symbolic high complication timepiece. In watchmaking terms, it is a triple-axis tourbillon that incorporates twin music boxes, complete with combs and barrels. They play The Godfather's main theme, composed by Nino Rota, from the movie's score. As the music plays, the entire movement spins as if in a dance while the off-centred dial turns in the opposite direction so as to remain upright.
Published on 2022-11-19