Ulysse Nardin | The Ocean Race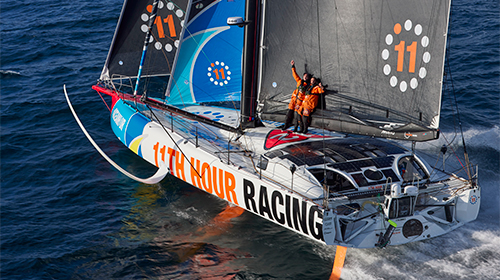 On 15 January 2023, The Ocean Race, a human adventure like no other and the toughest test for a sports team, set sail for the first destination: Cabo Verde. Over the next six months, starting from the port of Alicante in Spain until the Grande Finale finish at the port of Genova in Italy, the teams compete in a thrilling race around the world.

This 14th edition will feature two classes of ultra-high performance ocean-going yachts: the Imoca class and the VO65 class. The former will sail over 32,000 nautical miles around the world for The Ocean Race trophy, while the latter will have to accumulate the best score across three different legs of the race, competing for The Ocean Race VO65 Sprint Cup.

This year, Ulysse Nardin is the Official Timing Partner and Time to Act Partner of the Race. Time is at the heart of the race: not only for competition and records, but also as time to act responsibly. Indeed, this edition of the Race will showcase Racing with Purpose, the most ambitious and comprehensive sustainability programme developed by a sporting event.

Created in collaboration with 11th Hour Racing, the programme focuses not just on making the event as sustainable as possible, but also seizing every opportunity that the platform provides to help people understand how incredible the Ocean is and what they can do to protect it, including an ambitious campaign to drive a Universal Declaration of Ocean Rights.

To anchor its commitment to safeguarding the Ocean, Ulysse Nardin is also partnering with 11th Hour Racing Team, a USA-flagged offshore sailing team competing in The Ocean Race and is dedicated to promoting awareness of climate change and ocean health.

Alongside its role in the "real life" race, the brand is also the Official Timing Partner of the most popular virtual sailing game in the world, Virtual Regatta, The Ocean Race edition. With more than one million players, the game confirms that real races and real skippers can mix with virtual sailing sports games.

As a concrete pledge to Ocean preservation and a celebration of the partnership, Ulysse Nardin has launched The Ocean Race Diver. Designed to be the first sustainable diver collection, this unique and breakthrough timepiece is the official watch of the Race. The components of the watch's movement are 95% sourced within a 30km radius of the Manufacture, half of them coming from recycling channels.
Published on 2023-02-03