Jaeger-LeCoultre | The Stellar Odyssey in Dubai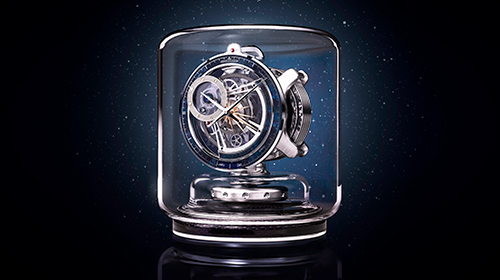 In February, the "Stellar Odyssey" exhibition created by Jaeger-LeCoultre will take place in Dubai. This event is an invitation for watch enthusiasts and the general public alike to discover how the mysteries of the cosmos are translated into micro-mechanical wonders that capture the universe in miniature, in order to tell the time.

Exploring the wonders that can be observed in the night sky, The Stellar Odyssey reveals the awe-inspiring phenomena that the watchmakers of Jaeger-LeCoultre express through their celestial complications, displaying mankind's link to the cosmos directly on the wrist in a literal, philosophical and uniquely captivating way.

Showcasing a careful curated selection of the Manufacture's most remarkable historic timepieces as well as its most recent celestially-inspired timepieces – including the extraordinary Atmos clock and the Reverso Hybris Mechanica Calibre 185 – the exhibition features multi-media installations that will take visitors on a virtual journey to the cosmos. It translates the wonders of the celestial world into art installations and multi-sensory experiences, while the Atelier d'Antoine, named after the Maison's founder, Antoine LeCoultre, shares watchmaking know-how through hands-on educational workshops based on the Stellar Odyssey theme.

Within the main exhibition pavilion, The Stellar Odyssey explores the creative and cultural universe of astronomically inspired watchmaking in eight chapters. Visitors begin by discovering the very origins of time, the impact of celestial phenomena on the way we measure it, and the origins of Jaeger-LeCoultre's expertise in developing astronomical complications. Each of the five following chapters leads visitors through a different cosmic phenomenon, displaying rare historic watches as well as timepieces from the most recent collections.

In the heart of the main pavilion beneath a geodesic dome, an immersive digital show takes visitors on a virtual journey through space and time, transporting them through infinite space and 13.7 billion years of time to reveal the mysteries of the cosmos in five episodes – from the origins of the known universe to the present day.
Published on 2023-02-05