Breitling | Q36.5 Pro Cycling Team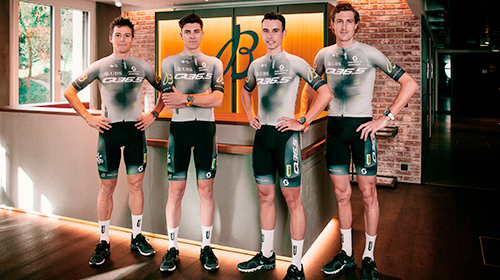 Beginning in the 1950s, Breitling served as the official timekeeper of the biggest races on the cycling calendar, including the Tour de France and Giro d'Italia. A personal passion of third-generation founder Willy Breitling, the speed-driven sport went hand in hand with the company's high-precision chronographs.

Today, Breitling continues that long-standing affiliation with the announcement of its first cycling team sponsorship, Q36.5 Pro Cycling Team. The brand will bolster the Pro Tour team, newly founded by the Italian cycling apparel brand Q36.5, on its mission to reach the World Tour by 2026.

The newly recruited 24-rider squad, representing 13 nationalities, starts their pre-season training camp tomorrow to prepare for its inaugural race, the Saudi Tour (30 January-3 February 2023). First-year priorities of the Swiss registered cycling team will be to race with a purpose, develop the young riders, and make a mark on the Pro Tour.

The team is led by experienced General Manager Douglas Ryder and advised by the legendary Vincenzo Nibali, one of only seven cyclists to have won all three of the Grand Tours (Tour de France, Giro d'Italia, and Vuelta a España).

Among the Q36.5 Pro Cycling Team riders, who are stepping up to the Pro Tour level for the first time, are Negasi Haylu Abreha from Ethiopia, Walter Calzoni and Nicolò Parsini from Italy, Corey Davis from the USA, and Switzerland's Filipo Colombo, who will also race mountain bike. In addition, the multicultural team will be able to count on the expertise of veterans Gianlucca Brambilla, Jack Bauer, Damien Howson and Tobias Ludvigsson among its roster. All three have spent 10 seasons on the World Tour and bring vast experience.
Published on 2023-02-07