Jaeger-LeCoultre | The Collectibles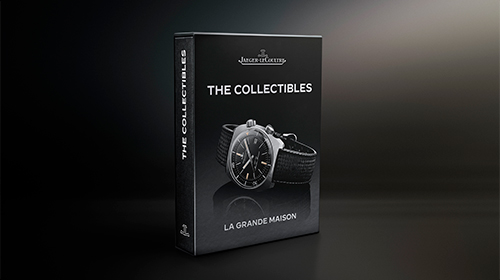 Jaeger-LeCoultre announced the launch of The Collectibles, a new programme for collectors and enthusiasts who wish to acquire a piece of history from La Grande Maison. Introduced to coincide with 190 years of the Manufacture, it will form part of Jaeger-LeCoultre's ongoing offer.

The Collectibles presents a meticulously curated collection of rare and sought-after timepieces that represent high-water marks for both Jaeger-LeCoultre and 20th-century watchmaking. Part of an evolutionary selection, these timepieces will be available to purchase through The Collectibles on the jaeger-lecoultre.com website and in the form of capsule collections that will travel around the world. Among the first to be offered are fine examples of a Geophysic, a Memovox Parking, a Master Mariner Deep Sea and a Shark Deep Sea. Every Collectibles timepiece is presented with an extract from the Jaeger-LeCoultre archives, a new watch strap and a complimentary copy of The Collectibles coffee-table book. In addition, when available, the original box and papers, and original strap or bracelet will be included.

Every piece offered through The Collectibles is thoroughly vetted by Jaeger-LeCoultre's historical experts and fully serviced and restored by the specialised watchmakers of the Manufacture's restoration workshop. Currently numbering 10 experts, the restoration team can go through the Manufacture's archives and find the blueprint of every piece ever made, and in some cases also find a stock of original spare components. If there is no component to hand, there is a stock of some 6,000 swages or stamps that they can use to make an identical component from scratch. Because the Manufacture is fully integrated, the entire process can be carried out in-house. While the mechanical restoration may, in some cases, be significant, the intervention on the case and dial must be kept to a minimum, since too much work would alter the historical nature of the piece for collectors; therefore, Jaeger-LeCoultre's Heritage team seeks watches that are as close as possible to their original condition.

In parallel, The Collectibles coffee-table book covers the period from 1925 to 1974, surveying 17 of the most significant models produced by the Manufacture during this "golden age" of 20th-century watchmaking. Shining the spotlight on the pioneering spirit that has always driven La Grande Maison, the roll-call of ground-breaking innovations includes timepieces such as the Reverso, Memovox, Futurematic and Geophysic. A full chapter is devoted to each of the 17 models, providing an encyclopaedic history and including essential data for collectors supplemented by detailed and informative photography, and copies of historic documents from the Manufacture's archives.
Published on 2023-02-15