Chopard | Chinese New Year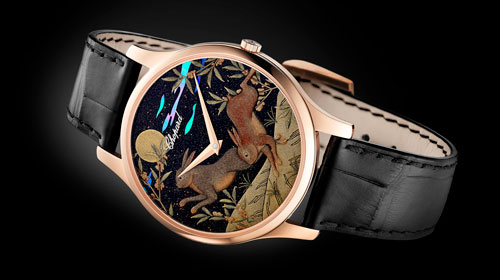 The Chinese year that began on 21 January 2023 is that of the Water Rabbit. In keeping with a longstanding tradition, Chopard annually produces a series dedicated to the Chinese zodiac sign of the current year. The unchanging characteristics of this includes a limited 88-piece production run; an extremely slender L.U.C XP case in ethical rose gold and an ultra-thin L.U.C Calibre 96.17-L with automatic winding via a micro-rotor. Finally, the dial is crafted each year in Japan by a world-renowned artisan specialising in the maki-e technique. The variations of each edition stem from the interpretation and symbolism attached to the zodiac sign that the Geneva-based house portrays on this dial from year to year.

In the foundational legends of the zhānxīngshù system, the rabbit inhabits a jade moon to which it keeps company. It represents prudence and agility. In combination with the element (water) that characterises the year of the water rabbit, it heralds longevity, peace and prosperity.

The Japanese master lacquerers have accordingly created a dial on which two rabbits – one grey and the other red – frolic under a full moon in a landscape dotted with Chinese olive trees – a fragrant Asian native shrub symbolising success and achievement, qualities often associated with the rabbit. The scene unites the animal's essential symbolic elements while suggesting its energy, intelligence and alertness. Finally, the pair's sharp eyes and pricked ears remind us that the rabbit is always on the alert.

Faithful to tradition and the preservation of craftsmanship, Chopard works with the finest Japanese artisans specialised in the traditional maki-e lacquering technique. The 88 iterations intended for the L.U.C XP Urushi Year of the Rabbit are produced by the workshops of the century-old company Yamada Heiando and crafted by master artist Minori Koizumi, a meticulous task requiring no less than 160 hours of work.

In accordance with this refined ancestral technique, gold flakes – placed between layers of lacquer made from the sap of the Toxicodendron vernicifluum tree – light up the background. The artisan's attention was focused on each detail of the little scene so as to reveal its realism and lyrical beauty.
Published on 2023-02-17