Louis Erard | A triptych by Alain Silberstein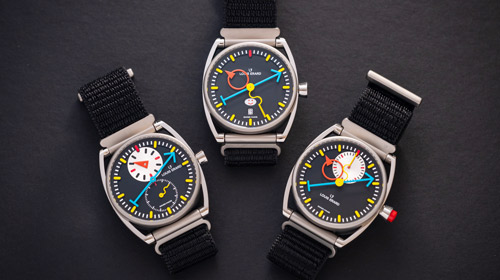 In 2019, Alain Silberstein revisited the Regulator by Louis Erard, an emblematic historical model from the Jura-based brand. This collaboration gave rise to an exceptional timepiece, produced in two 178-piece limited series, which was subsequently selected for the Grand Prix d'Horlogerie de Genève. It also won a "Red Dot Award: Product Design 2021".
2021 marks a new frontier in the collaboration between Louis Erard and Alain Silberstein, with the launch of this triptych. Three artwork watches; three family members able to shed new light on Alain Silberstein's artistic approach, as well as Louis Erard's watchmaking mastery. Each item is limited to 178 models, 78 of which are to be sold in a collector's box containing the entire capsule as well as a digital artwork signed by the artist.
The triptych begins with a reference to the artist with the La Semaine Louis Erard x Alain Silberstein. With its three hand along with a day-date display, this model features the exquisite weekly planner developed by Alain Silberstein, easily recognisable as his work: the days do not have names, but rather playful smileys – small, stylised faces symbolising different moods and reminding us that time is a flow, an experience, an emotion evolving through the days. From grey Monday to radiant Sunday (or vice versa), depending on the mood of the wearer!
The central piece is a new variation on the regulator: Le Régulateur Louis Erard x Alain Silberstein II. Once again, the designer's signature touch is instantly visible: a large blue arrow hand for the minutes, a red triangle for the hours, and a small yellow serpentine hand for the seconds. Telling the time is separated into its different parts in a joyful language that is both sophisticated and childlike, imbued with artistic and philosophical depth that characterises all Silberstein's work: it is a game of proportions, with references ranging from Bauhaus to the rich history of watchmaking.
The third part of the triptych is an all-new chronograph design from the guest artist: Le Chrono Monopoussoir Louis Erard x Alain Silberstein. It features centrally placed hour and minute hands, with the chronograph seconds hand at the centre and a 30-minute counter at 12 o'clock. As on the La Semaine model, the monopusher chronograph incorporates the designer's new signature hour hand: a red circle pinned with a triangle.
Published on 2021-08-05