Cartier | The Pasha watch saga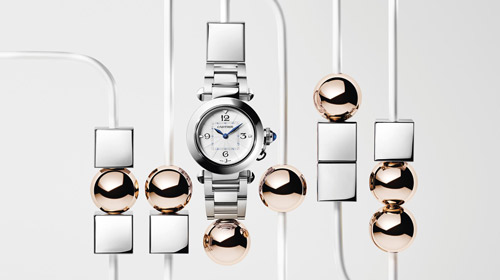 Faithful to the original model, this creation is perpetually reinvented. Over time, Pasha has become a cult watch for a generation of passionate men and women. The new references feature a bolder than ever design.
A watch originating in the company archives, dating back to 1943 and featuring powerful lines, grid, Arabic numerals, crown cover and square studs, it became the inspiration for the Pasha watch over 40 years later.
Launched in 1985, its name pays tribute to the Pasha of Marrakesh, a lover of fine watchmaking and lifelong customer of Louis Cartier. Entirely made of yellow gold and featuring an extraordinary diameter and chained crown, it quickly became a heritage piece. Its extroverted design was utterly in tune with the hedonism of the time that was all about bringing joy to oneself, flaunting happiness and being seen! It crystallised the success of an entire generation.
Women soon ended up stealing it from men for the power it exuded. It appeared on the covers of women's magazines who photographed it directly on shirt cuffs. Ultra-contemporary and ultravisible, it became the standout watch of popular fashion editors. Women adopted this powerful signature that met their desire for liberation. They achieved success and wanted it to be known.
That's why the Pasha de Cartier has been an iconic watch since its creation. For this reason, it has inspired a host of Cartier variations: from the Pasha C, the first to introduce steel in 1995 to the precious and officially feminine Pasha 32 in 1998; and from the Pasha 42 with its larger dimensions (2005) to the Miss Pasha in 2009, introducing a joyful and colourful mini version.
Style, strength of character, energy, vibrancy: the Pasha watch has always appealed to those who think big. A broad world view which echoes the positive mindset of today's entirely new generation of successful talent.
The come-back
In 2020, Cartier brought the iconic Pasha watch back to life by inaugurating new, unique and diverse creative projects that set them apart from previous generations. Faithful to the original model but even more sophisticated with its crown featuring a blue spinel or sapphire, its interchangeable strap and its multiple possibilities of personalisation, the Pasha de Cartier watch for the 2020s is classic yet contemporary and remains as edgy as ever.
Steel or gold cases, new 30mm or 41mm sizes: Pasha stands out as a cult watch for a new generation of men & women. Above all, in a bid to convey the spirit of the collection more strongly than ever, the new references display a bolder design, showcasing Cartier's rich range of expertise through the introduction of chronograph models, skeleton dials and gemset versions notably featuring the "vibrating diamond" setting.
Since its relaunch, the Pasha watch has become an obvious model of choice. It's a question of feeling and the spirit of the times, of which it embodies the new concepts of success harboured by today's generations and differing from those of their elders. Its movement has been updated and the few minimal changes make it even more sophisticated. The Pasha stands for an aesthetic as well as for a sense of strength and power... When it was launched in 1985, it was immediately embraced by a whole generation of opinion leaders.
The Pasha Community
To celebrate the rebirth of the cult watch, the Maison unveiled in 2020 a new campaign highlighting a community of unique personalities who are changing the codes of success by forging exceptional and diverse paths of creativity. With this campaign, Cartier recalls the unique ability of these creative spirits to transcend preconceived ideas and forge new, exceptional paths towards achievement. The Maison entrusted the articulation of this vision to New York fashion photographer Craig McDean, with centred around the new Pasha ambassadors Rami Malek, Troye Sivan, Willow Smith, Maisie Williams and Jackson Wang.
Two new models in 2021
Made to measure records, the new Cartier chronograph boosts the Pasha watch's power and visibility. A strong approach that further enhances its design, accentuated by the presence of a rotating bezel and two push-pieces. Faithful to the historic version of the first Pasha chronographs, these two buttons, set with a cabochon, have maintained the volume of the original design. A choice of both style and excess that is perfectly in line with the Pasha de Cartier spirit.
This new chronograph version is equipped with a 1904-CH MC Cartier Manufacture movement and a sapphire case back. These steel or gold interpretations are easily interchangeable via an adapted version of the Cartier-developed QuickSwitch system. This invisible mechanism blends into an architecture located under the case and is activated by a single push. The metal bracelet can also be adjusted to the nearest link, without the need for tools, thanks to the SmartLink system.
After the 35mm version was launched in 2020, the Pasha watch is becoming more feminine with a new 30mm size, in steel or gold, with or without diamonds. A watch with a jewellery-watch diameter, a quartz movement and all the signature details found on a Pasha watch: from personalised engraved initials hidden behind the crown cover to interchangeable straps.
Cartier Care
All Pasha watch owners are invited to register their creation on the Cartier Care platform, which provides them with access to customised services and communications. Clients who register with Cartier Care and whose watch is still under guarantee can also benefit from an international warranty extension of between two and eight years. This includes a full service, water-resistance check, battery replacement and metal bracelet repair, according to the expiry dates determined by the Maison.
This exclusive gesture also comes with the possibility of personalising your Pasha de Cartier watch with an engraving in two different places. Either on the back of the case, or under the crown cover (with the exception of chronograph models) specific to the Pasha de Cartier watch, which opens to reveal a hidden and secret place where initials can be engraved. Customers may also have the red box embossed and personalised with initials or a significant date in golden characters on the front of the case.
Published on 2021-08-14