Richard Mille | RM UP-01 Ferrari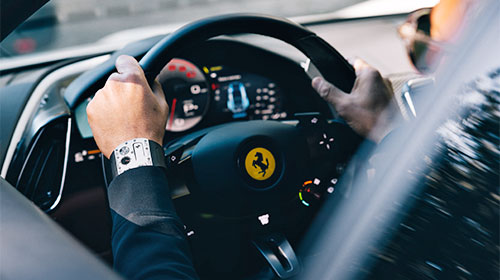 Shattering codes and redefining limits in the quest for ultra-thinness, Richard Mille presents the RM UP-01 Ferrari. At only 1.75mm thick, this technical feat that breaks with the usual aesthetic codes of the watch Maison offers unprecedented interaction between the movement and the case.

The wheel of time turns inexorably on, shaping destinies to the tune of fortuitous encounters and founding partnerships on the bedrock of shared values. When the gears click, inspiration and passion harmonise in an eternal quest for perfection, with attention to detail the blazing focus of each heart and mind.

It is precisely this spirit that presides over the relationship between Richard Mille and Ferrari, two brands that are at once resolutely forward-looking and eager to celebrate the traditions of their respective realms. Through this most intuitive of alliances, engineers and designers from the two brands pool their strengths, passionately striving to meet new challenges in single-minded pursuit of precision, reliability, innovation and excellence.

Naturally, Richard Mille felt compelled to celebrate this budding relationship by creating an exceptional timepiece. After many years of development, the RM UP-01 Ferrari has emerged, breaking with the brand's usual iconography while remaining faithful to its identity, and once again pushing the envelope by taking up the ultra-thin challenge.

Breaking new ground, both technically and graphically speaking. A high-precision mechanism combining modern lines and performance, aesthetics and ruggedness. A work of incredible prowess to meet the requirements specific to a watch that can be worn in any situation. A model worthy of the unconditional admiration that the prestigious Italian automotive brand inspires all over the world.

Making hearts beat faster
Ferrari has been designing legendary sports cars since 1947. In its 75 year history, these transalpine racing machines have won the most renowned competitions on roads and tracks worldwide. Maranello's high-performance engines, with their deep-throated roar, have sung some of motor racing's most glorious arias. For over 20 years, Richard Mille's timepieces have been revolutionising the codes of Haute Horlogerie. Two brands that kindle strong feelings, both inspired by a desire for perfection. The meeting of two worlds that both worship at the altar of know-how, innovation and excellence.

Embarking on the unending quest to shave off yet another thousandth of a second. Defying all odds to meet insane technical challenges. Shaping the future by offering models that make zero concessions, vehicles for strong emotions. Not without reason did Ferrari and Richard Mille join forces in 2021, via a multi-year partnership that includes Formula 1, WEC endurance, GT racing and e-sport, which is gaining in popularity. United in their pursuit of top performance, the two manufacturers are engaged in the same passionate quest for excellence in their respective domains – sports cars and contemporary Haute Horlogerie respectively – two distinct realms with much common ground.

Performance as an accelerator of style
The aesthetics of a watch or a car stem not only from the architecture of its engine, but also from the materials comprising it as well as the ergonomics or performance sought.

In the automotive world as in fine watchmaking, there is an especially close relationship between form and function, between the exterior appearance and internal components of the final work. Applied to horology, these principles signify that a compact calibre will guarantee resistance to extreme shocks or free up space for a larger complication, whereas a larger movement will make it possible to arrange components for depth.

Both manufacturers develop sporting mechanisms that are as elegant as they are immediately recognisable. Their models make no concessions and frequently contradict current fashion to create new aesthetic masterpieces. In terms of design process, the Italian marque has made a specialty of combining talents, weaving together art and science into a result that is always spectacular. Ultimately, the fluid lines of a Ferrari are born of perfecting its proportions.

Just as Ferrari builds victorious racing cars as well as luxury sport cars, each Richard Mille model squarely occupies an unprecedented niche, designed for a specific environment, whether that be motorsport, lifestyle, athletics or art. Tonneau-shaped, round or ultra-thin, each one respects the tenets that forged the brand's reputation: a strong architectural dimension, uncompromising attention to detail, perfect ergonomics and, above all, elimination of the superfluous.

Movements and engines: hearts of these wonders
It's all about going above and beyond and staying out of your comfort zone. To elicit this attitude, Richard Mille and Ferrari creations must be equipped with movements and engines capable of exceptional performance. These are spectacular mechanisms, veritable works of art to be admired with all their attributes on display. In the case of Richard Mille this is through the prism of a sapphire crystal, or even a case entirely machined from this precious material, for Ferrari, under a glass bonnet revealing the signature red cylinder- head covers and crankcase designed by the Maranello legend.

Such radical transparency obviously calls for extreme finishing and absolute precision to perfect each detail. An identical attachment to rigorous discipline inspires both the engineers at Maranello, striving to gain that last thousandth of a second and those of Les Breuleux, toiling to shape cases and movements to a hundredth of a millimetre or checking weights to the the nearest. These devotees of technicity revolutionise style codes by introducing innovative materials like carbon fibre or Kevlar in the case of Ferrari; grade 5 titanium, Carbon TPT or graphene as regards Richard Mille. All these are materials used in cutting-edge industries including aeronautics, aerospace and orthopaedic surgery. The surface treatments applied are not merely selected to aesthetically enhance them, they also play an important mechanical role. PVD surfacing improves the plate's resistance to wear while delivering very low friction ratings.

This partnership will offer the world watches that bear witness to a collaboration of the best finest expertise these two brands have to offer in the combination of their ideas, understanding, respective developments and shared values. Expect exceptional models that jump-start emotion.

Fighting for the last hundredths
With the RM UP-01 Ferrari, Richard Mille is proud to present an ultra-thin watch just 1.75 millimetres thick. This mind-blowing technical feat owes as much to approaching watch mechanics with fresh eyes as it does to reframing design methods in ways that make the spectacular available for use in everyday situations.

Anyone aiming for performance must invest the necessary energy to achieve their goal. Such is the price paid, including by the Richard Mille teams who decided a few years ago to take on the thinness challenge in watchmaking. After dozens of prototypes and thousands of hours in R&D and laboratory testing, the 1.75mm thick RM UP-01 Ferrari is here to prove that the result was worth the blood, sweat and tears it took to shave off the last few tenths of a millimetre.

From the very start of the project, the extremely demanding brief made the movement's performance a priority, meaning it would have to be a calibre both extremely thin and endowed with a 45-hour power reserve with a balance beating at 4 Hz (28,800 vph). The manual-winding RM UP-01 movement with hours, minutes and function selector presents a profile of just 1.18 mm and weighs in at 2.82 grams.

In search of absolutes
To start with, developers realised that a calibre with hands mounted on the movement wheels in the usual way would prove impossible. And thus, because the quest to reduce thickness is one of absolutes, the very conception of many components had to be entirely revisited. The approach selected was to distribute across a large surface area the elements that could no longer be stacked, creating a greater symbiosis between the movement and case, which mutually stiffen each other.

The baseplate and skeletonised bridges are consequently made of grade 5 titanium to guarantee perfect thinness without losing any strength and ensure optimal functioning of the going train. The patented extra-thin barrel has an extremely fine-gauge spring, while the escapement architecture was reimagined. In order to save height, the small plate of the balance and the dart (guard pin) – two parts that prevent the pallet-lever from slipping back during the free phase of the balance-wheel's movement – were eliminated. The new likewise patented ultra-thin escapement replaced these "anti-reversal"elements with an elongated fork with new horns. Likewise, the index was set aside in favour of a variable- inertia balance crafted in titanium whose six weights allow for fine-tuned calibration of the regulating component.

It was also necessary to rethink the winding mechanism and eliminate the winding stem, whose minimum diameter of 1.5mm precluded its inclusion in such a slim watch. In its place, the two crowns – one for function selection – the other to utilise the selected function, have been integrated into the case as movement wheels and ringed with black ceramic inserts that protect the bezel from any wear. An additional challenge consisted in ensuring their necessary water resistance, along with that of the case as a whole. This called for R&D as strenuous as that for the movement itself.

Titanium was chosen as the case material for its combination of lightness and resistance, as demonstrated by rigorous laboratory testing. Slimming certain segments of the case to an astonishing 0.18 millimetres certainly called for a metal with extreme stiffness.

The two sapphire crystals – one over the time indicator, whose hands are transferred directly to the wheels, the other positioned over the regulating organ (balance and spring assembly) to showcase the movement – have also been reduced to a thickness of two tenths of a millimetre, with a diameter calculated to guarantee their resistance during tests.

Rigorous testing at every phase of development
The 3,600 hours of development required by the movement come in addition to the 2,400 hours of functioal design and 2,000 hours of labour on the casing, with batteries of tests at every stage. As a result, the RM UP-01 Ferrari fully occupied all hands at both the technical offices and laboratories of Richard Mille and Audemars Piguet in Le Locle.

The dense programme of tests included wear (notably a 10-year accelerated aging of parts), water-resistance tests, torsional tests, flex tests and last but not least, hours and hours spent testing shock resistance, especially using the notorious pendulum (Charpy impact test), which certifies resistance to acceleration exceeding 5,000 Gs. The goal was not to design the RM UP-01 Ferrari as a concept timepiece that would make watchmaking history, but to ensure the 150 timepieces composing this powerful series were fit for the purpose of daily wear.

Working collaboratively alongside the Ferrari team, expressed mainly in the choices of materials and the lines of the watch, lent the project precisely the competitive spirit so essential to most exciting adventures.

In a definitive win, the RM UP-01 Ferrari successfully respects the principles of the Manufacture thanks to its extreme lightness, tonneau shape, spline screws, skeletonised bridges and level of finishing – even in areas invisible to the eye – including components that are satin-finished, polished, microblasted and hand beveled.
Published on 2022-09-26